Wood stove cast concrete slabs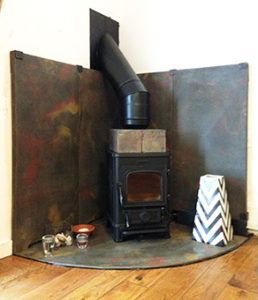 Wood stove concrete slabs
We are able to cast in concrete and dense castables for wood stove surrounds.
The addition of fire brick grog and high alumina cement makes it able to install by a hot wood stove without fear of cracking.
Note the heat sinks on the stove to store the heat.
The use of dyes allows coloured finishes.
Casting kitchen worktops in concrete or terrazzo.