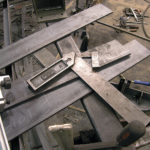 Custom furniture work for Sussex and the South East.
Making bespoke staircases to tables for example.
Designing custom interior works in addition to furniture.
Using a variety of materials and also finishes.
Casting concrete kitchen worktops as well as plinths.
Besides steel we also us, bronze and stainless steel.
In addition to new we also use reclaimed materials.